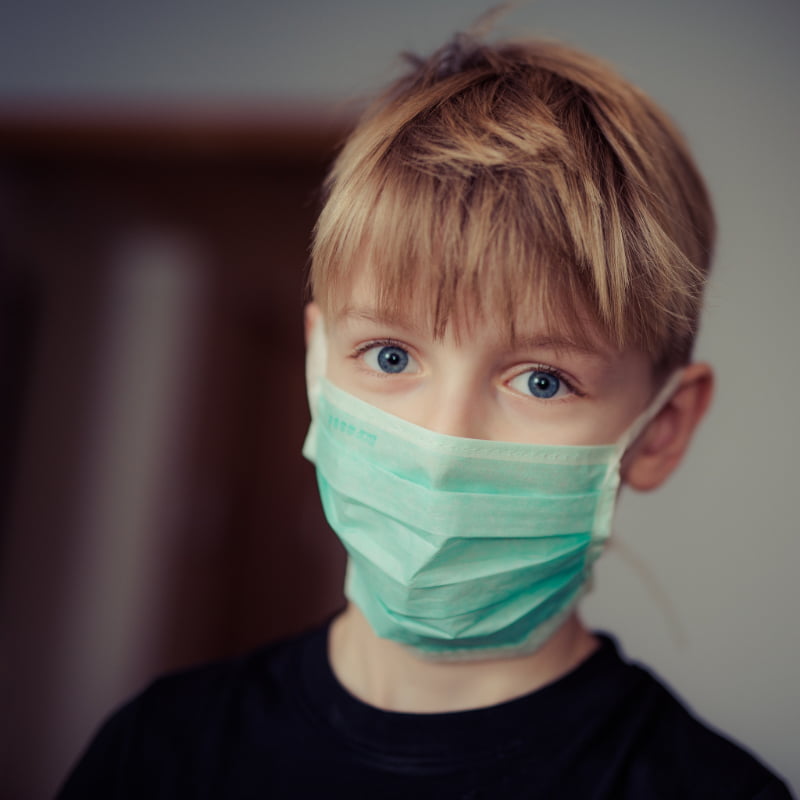 As many states, including Pennsylvania, move to begin to re-open businesses and other services, wearing a mask will likely be included in this plan. In PA, individuals over the age of 2 years old must also comply with this directive in order to enter a place of business, such as a grocery store. With relaxing of more guidelines, it's likely that wearing a mask when in public will continue to be a part of our near futures to keep us safe and reduce virus transmission.
So, what does that mean for our kids and teens who have been sheltering in place? Current guidelines in Pennsylvania state that any individual who is older than 2 years old must wear a mask, but since many of us are staying home, we have not needed to practice or use this precaution with our kids and teens. This shift towards our "normal-for-now" life may be difficult for children to process. You may find them to be nervous, anxious, or upset about having to wear a mask. Here are some tips that make help this transition smoother.
Use a mask with your child's favorite character, brand or team
Have a child that loves Frozen, Toy Story, etc.? Try to find a mask that incorporates what they like to boost their compliance while also helping them feel comfortable. Many individuals are sewing masks for free or for a small fee, or if you're crafty, you can give it a go yourself (JoAnn Fabrics is offering a free pattern and tutorial). You could use a favorite character t-shirt that your child has outgrown if you are unable to find fabric with your child's chosen characters.
For older kids or teen, consider using some of their athletic clothing with their favorite sports team or brand logo to create a mask that they may like and be more apt to wear. If you are using paper masks instead, think about adding some decorations or accessories in the mask. The addition of a few favorite character stickers, ribbon, or a smiley face may make mask wearing more enjoyable and fun.
Make Sure the Mask is Comfortable
Masks will be less likely to work if they are not worn properly covering the child's nose and mouth. If the mask is uncomfortable and the child is constantly touching to adjust the mask, it's easier to spread germs. If the loops are bothersome to the child's ears, try using a stretchy headband or even ribbon or string to extend the loops around the back of the child's head. You can also more easily adjust the fit of the mask to the child or teen by doing this.
Think about adjusting hair styles while wearing masks
For kids or teens with longer hair, a bun or pony tail may help the mask fit better and limit the risk of hair tangling in the loops or elastic sting. To increase their compliance with wearing a mask, give kids the choice of hairstyle (pony tail, braid, bun, etc.) to help offset the necessity of wearing the mask. For kiddos with shorter hairstyles, think about letting them style it the way they would like (spiky, mohawk, hair chalk, etc.). By helping kids identify what they can control (hairstyle), they pay less attention to what they don't have a choice on (wearing the mask).
Change can be difficult for kids and teens, but accepting that "normal for now" life is significantly different than a couple of months ago can present extra challenges. If you feel that your child or teenager is struggling adapting, counseling can help them work through these issues and settle into some normalcy.
At VCC, we're here to help. We are offering online teletherapy appointments and many insurance providers are currently waving co-pays. Contact us at info@valleycounselingcenter.com or 717-790-1700 to learn more.